Official DELE Exam Preparation in Madrid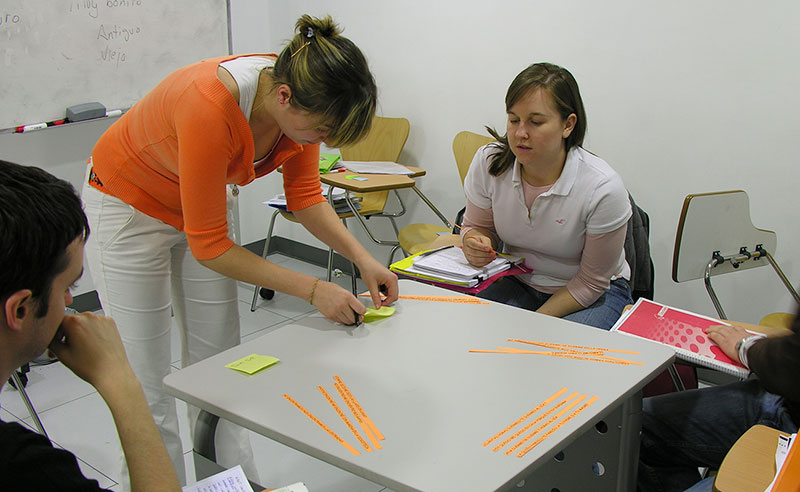 The DELE — Diploma de Español como Lengua Extranjera — is the official certificate of Spanish knowledge for non-native speakers officially recognised by the Spanish Ministry of Education and Culture, and administered by the Instituto Cervantes.
DELE Exam – Spanish Certificate in madrid
The DELE certificate is required by most of Spanish educational institutions and universities to overseas students in order to accredit their Spanish language level.
Moreover, it is more and more useful if you want to live and work in Spain or any Spanish speaking country since many companies use it as an objective measure of language skills.
Our official DELE courses are designed to get the best possible score. It is not just about being able to speak in Spanish, but developing the necessary skills to perform well in every exam section: grammar-vocabulary, reading, writing, listening and speaking.
We offer the tools you need to succeed with our high-quality, affordable courses.
You can follow the DELE preparation courses for the Certificado Inicial (CIE), Diploma Intermedio (DIE) and the most advanced Diploma Superior (DSE). Take a few moments to complete our multiple-choice placement test to find out which is the most suitable option for you.
Club de Español will inform you about the exam date, time and place, and also will take care of deadlines and all the paper work required in order to register.
More information is available from our academic advisors. Contact us if you want to learn more about DELE exam requirements, fees or registration procedure. View DELE exam dates.
DELE courses
Price
DELE
One-to-one

420€ / 12 hours
770€ / 24 hours
1.080€/ 36 hours

DELE
Two-student group

280€ / 12 hours
500€ / 24 hours
650€/ 36 hours

DELE
Group

330€ / 24 hours
450€ / 36 hours
Notes
Students can choose their schedule and may cancel classes 24 hours in advance.
All prices are valid until December 31, 2023.
Contact us for information on available schedules and other options.