Frequently Asked Questions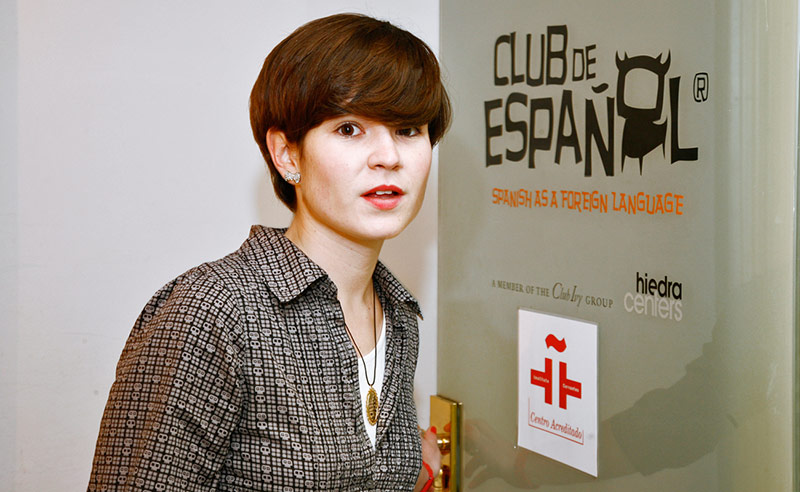 Instruction, Facilities and Activities
1. How long has Club de Español been in operation?
The Club Ivy Group, Club de Español's parent company, has been offering language classes of all kinds, including Spanish, for more than a decade. Club de Español became an independent school in 2002
2. What kind of education and experience do the teachers have?
All of our teachers are university-educated and are certified as Spanish language teachers. We pride ourselves on our teachers' experience teaching Spanish as a foreign language to many different types of individuals and groups, and we constantly evaluate them to ensure our students' satisfaction.
3. Does Club de Español have any particular teaching philosophy?
Our methodology is based on the latest foreign language teaching trends. We follow the communicative teaching method and, within it the so called "Task-based approach," which pursues the following goals:
Develop the basic communicative skills: speaking, writing, reading, and listening.
Address language teaching and learning in a usage perspective. The main goal is not to learn a specific grammar structure, but to understand how to use it efficiently as a native would.
Understand the classroom as the most suitable place to develop communicative situations so that students may perform as if it were real life.
Strongly encourage active participation by using work in pairs and group dynamics.
Help each student find their own learning strategies
4. Can Club de Español design a class specifically for me?
Absolutely. Flexibility is one of our strengths at Club de Español. We have created personalized programs for a wide range of individuals and groups. Whatever your specific needs, our teachers can design a program to help you achieve your Spanish learning goals.
5. What is a typical day of intensive Spanish like at Club de Español?
At Club de Español, we strive to provide a varied and stimulating learning experience for our students. To that end, within the parameters of our curriculum, we try to give our teachers flexibility to plan the most enjoyable and effective program for each individual or group.
A typical day of super-intensive Spanish begins with two class periods of work on grammar and structure, moves on to two class periods focused on usage, conversation, and Spanish culture, and is followed up by two class periods devoted to reinforcing and building upon the day's content through grammar review and "special activities" which may include music, film, or trips outside the classroom.
6. What is the maximum class size for group classes? How about the average class size?
Each type of group class offered by Club de Español has a specific maximum number (see details). The average number depends on the season and level, but will often be several students below the maximum.
7. Can I switch teachers if I am unhappy with mine?
We hope you will always be happy with your teacher at Club de Español, but in the case that you are not, we are happy to make any changes we can to ensure your satisfaction. Staff members are always on hand and willing to listen.
8. What facilities and resources are available to students at Club de Español?
In addition to great courses and affordable prices, Club de Español's students enjoy the comfort and convenience of all of these facilities and services:
17 comfortable classrooms on two floors, 7 of them in our new high-tech center inaugurated in February 2005.
Cybercafe
Multimedia Language Lab
Individual Study Room
2 Student Lounges
Presentation/Cinema Room
Library Service
Language-Specialized Bookstore
9. What cultural activities does Club de Español offer?
Every month, Club de Español offers a full program of social and cultural activities, featuring access to professors and other native Spanish speakers. Some of our students' favorites:
Tapas Night, which begins with a themed class on Spanish food and end with a trip to a local tapas establishment for tapas and drinks
Guided Tour of Madrid: Club de Español gives a bi- and sometimes tri-lingual tour of Madrid's most famous neighborhoods
"Intercambio": Literally, "exchange", intercambios mix native Spanish speakers and Club de Español students in a social environment, combining fun and learning
Weekend Trips: Club de Español students are offered transport, accommodations, guidance, and the chance to meet other travelers. Trips are offered to all major Spanish cities, as well as to famous cultural events like the Running of the Bulls (San Fermines).
Cost and Payment
10. Is there a penalty if I cancel or change my plans?
Due to Club de Español's need for accurate projections of our student numbers, there is a cancellation fee governed by our general conditions. There is also a fee of 25 Euros for changes made to a program once it is confirmed by the school. However, in some cases this fee may not be applied.
11. Does the per-week cost drop if I enroll for a certain number of weeks?
Discounts may be available for long-term intensive Spanish class enrolments – please consult our staff. Extensive Spanish classes are sold in multiples of 4 weeks, with a discount for larger packages. Seasonal discounts may apply to extensive and intensive Spanish classes as well.
12. How can I pay for my course?
We accept wire transfers or cash payments directly at the reception center.
If you do not see the answer to your question here or if you'd like to work at Club de Español, please feel free to contact us for more information.