Monthly activities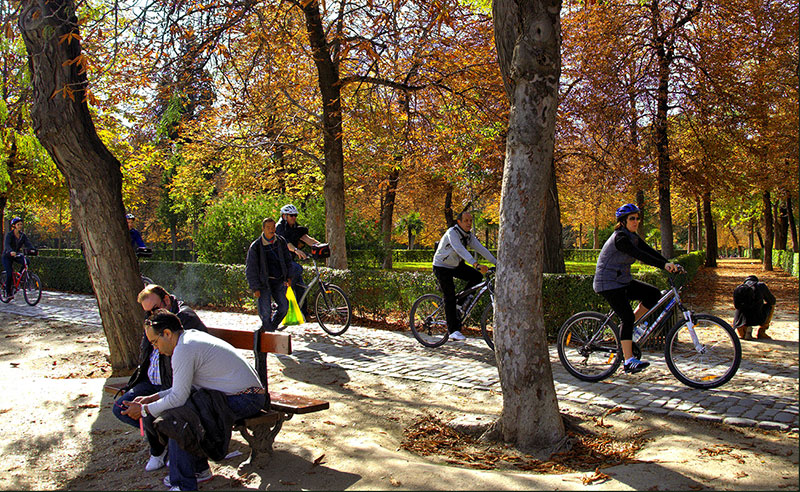 International Party Bus
When: Fridays
Price: 19,95€.
Price includes: Free first beer, free drink in the second club, entrance in the nightclub, no waiting in line
Description: Hop onto Partybus and get VIP entrance to Madrid's best Nightclubs. A bus with more than 2.000 sound watts, and best party atmosphere to take along Madrid's main's night club. All with VIP treatment, so you don't have to worry about anything. There is no entrance fee and no waiting in line.
Meeting Point: The Bourbon Café, C/ Carrera de San Jerónimo, 5 - Metro Sol
Departure: 10:30 p.m
Urban Bicycle Tour
When: Saturdays
Price: 17€.
Price includes: Comfortable city bike, tapa + caña/soft drink, English/Spanish speaking guide and discount vouchers for bars and nightclubs.
Description: a 2-hour bike ride through the barrios of the city centre where you will get to hear the most interesting urban legends and cycle along breathtaking views. Discover the best the city has to offer you while having great fun with your fellow students.
Meeting Point: The bike rental in Calle de los jardines 12. Metros: Sol, Sevilla or Gran Vía.
Departure: 5:00 p.m
Wine Tours
The numerous vineyards and wineries among the varied landscapes provide the visitor with spectacular sightseeing. Each wine region in Spain has something different to offer: the wineries' architecture and design, the vineyards' patterns, the colours and scents of the different soils and terroirs, the local food produce to accompany the wine, etc.
The wine regions and wine routes satisfy both the curious travellers and those with a special interest in Spanish wine.
In Rioja you will find one of the oldest wine-making regions, combining tradition and modern-design bodegas. Architecture and wine speak the same language in La Rioja.
In Penedés (Catalonia) —the land of cava— you can visit typical masias, vineyards close to the sea, and taste a great variety of wines, both still and sparkling.
Ribera del Duero is one of Spain's most famous wine regions. Its wines changed the Spanish wine market and introduced a new standard for quality. A lot of well-known producers concentrate in a small area.
Navarra implies visiting castles and tasting wines along Saint James way or Camino de Santiago.
Murcia is well known for its seaside resorts and beaches. The wines of Murcia are made mostly of the locally-produced Monastrel grape. You will admire vineyards a few miles away from the Mediteranean sea.
In Malaga —famous for its old wine tradition— you can discover beautiful white villages and enjoy both the nearby sea and mountains. Tourists can enjoy a wide range of activities.
If you are planning a wine tour for a group and need a professional team in the country to assist you feel free to contact us for more information.