Introduction to Spanish Tapas
Home Practical information Introduction to Spanish tapas
The Spanish custom to eat tapas is a great way to enjoy Spanish fare because it allows you to try lots of different typical dishes at once.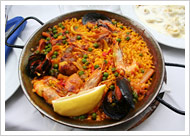 The origin of the Tapa is a little unclear but seems to have come from an old custom of covering a glass of wine with a piece of bread or a flat card to protect it from insects. This may have evolved to include a slice of chacina (dried pork) or jamón (ham). Another speculation is that the owners of taverns in Castilla-La Mancha, around the 16th century, discovered that they could disguise the smell of cheap or bad wine by covering it with a slice of cheese and thus began to "cover" the wine when it was served.
Madrid's tapas bar hopping scene has garnered a reputation worldwide for being "a must" when visiting, or living in, Spain. Spending a weeknight, or weekend afternoon munching these tasty mouthfuls is an unbeatable way to absorb a little more Spanish culture.
Tapas are typically served with small bits of bread, and in Madrid, they represent the best imported foods from the distinct regions of Spain.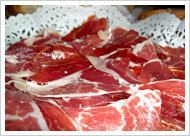 Each region has its own typical tapas. In the peninsular center they include queso manchengo (a cheese that is produced in the La Mancha region of Spain), in the north, tapas with la morcilla (blood sausage) are famous. In Cataluña bread with jamón serrano (cured ham) is the norm. Tapas with jamón (ham) or gambas (shrimp) are common in the region of Andalucia and frequently include aceitunas (olives). The price of tapas can vary anywhere from 50 centimos to 4 euros depending on the tapa. Prices can even vary for the same tapa depending on the quality of jamón (ham) you order.
In Madrid the culinary offerings are varied and you can find the best from through out the country in its restaurants.
For example, seafood restaurants get their seafood directly from Galicia and the tuna from the north. The restaurants that offer roasted meats demonstrate the finest techniques from the peninsular north. In Madrid you can find the cochinillo (piglet) of Segovia, el botillo (pig intestine) de Ponferrada (León), paella (dish with saffron rice, vegetables or meat) from Valencia, aceite de oliva (olive oil) from Jaén or boquerones (anchovies) from Málaga. You cannot overlook the products of Extremadura, chorizo (highly seasoned pork sausage), jamón serrano (cured ham), lomo (pork loin), All of these are just a small sample of the enormous culinary offering of Madrid.
Here are some well-known tapas bars listed by area within the city:
Alonso Martínez - Bilbao
Chipén

Cardenal Cisneros 38
Tel. 914 454 385
Canister

Gral. Álvarez de Castro 24
Tel. 914 469 302
Chamartín-Prosperidad
La Taberna del Sumiller

Víctor de la Serna 37
Tel. 913 598 595
Chueca-Malasaña
Bocaíto

Libertad 4
Tel. 915 215 331
El Pepinillo de Barquillo

Barquillo 42
Tel. 913 102 546
Cuatro Caminos
Combarro

Reina Mercedes 12
Tel. 915 547 784
La Consentida

Hernani 53
Tel. 915 336 216
La Garriga

Plaza Castellana 153
Tel. 915 700 139
El Quinto Vino

Hernani 48
Tel. 915 536 600
Huertas
Cervecería Alemana

Plaza Santa Ana 6
Tel. 914 297 033
La Dolores

Pl. Jesús 4
Tel. 914 292 243
La Trucha

Calle de Manuel Fernández y González 3
Tel. 915 320 882
La Venencia

Echegaray 7
Tel. 914 297 313
La Latina
El Bonano

Pl. Humilladero 4
Tel. 913 666 886
Delic

Ctlla. San Andrés 14
Tel. 913 645 450
El Almendro;

Almendro 13
Tel. 913 654 252
Tempranillo

Cava Baja 38
Tel. 913 641 532
El Viajero

Plaza Cebada 11
Tel. 913 669 064
Taberna Matritum

Cava Alta 17
Tel. 913 658 237
Lavapiés
Melos

Ave María 44
Tel. 91 527 50 54
La Taberna de A. Sánchez

Mesón de Paredes 13
Tel. 915 397 826
Malasaña - Conde Duque
Bodegas El Maño

Palma (Centro) 64
Tel. 915 215 057
El Pez Gordo

Pez 16
Tel. 915 223 208
El Cangrejero

Amaniel 25
Tel. 915 483 935
Bodegas La Ardosa

Colón 13
Tel. 914 151 346
La Huida

Colón 11
Tel. 915 229 107
Mesón Andino

Ruiz 16
Tel. 914 459 397
Albur

Manuela Malasaña 15
Tel. 915 942 733